Ever since I wrote the Swap Adjacent article on matching tile games, I have been fascinated with the challenge of writing, and visualizing the history of art forms.
Here is Larry Gomley's History of Film poster (clearly inspired by Reebee Garofalo's genealogy of Pop/Rock music), in which we can see the major genres developing over time.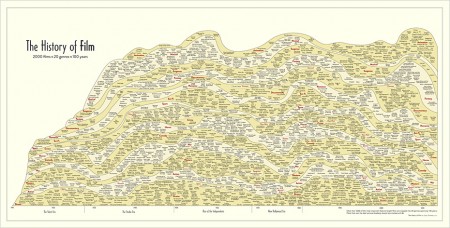 Before we pile on the criticism (US-centric etc..), there are three major reasons for attempting things like this:
It is an interesting way of condensing a large amount of information into a snapshot.
The process of reducing thousands of works into an overview is in itself interesting: how are we thinking about these things, and how would we express them visually?
Some of us ( me for example) were told in no uncertain terms during our university education that you just can't write histories like this. So let's do it!