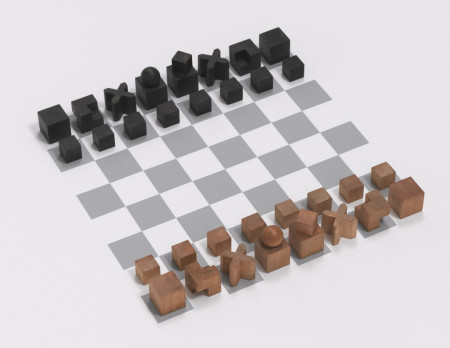 When discussing rules and fiction in games, I invariably show a picture of
the beautiful Bauhaus chess set, where the superfluous ornamentation and fiction of the standard chess set has given way to shaped pieces meant to indicate how each piece moves. And it is easy to illustrate how some pieces signal well – the bishop, the rook – where others quickly fail. How are you supposed to deduce en passant from the cube that is the pawn?
Artist Nova Jiang has now one-upped Josef Hartwig considerably with her Orthogonal/Diagonal art piece. Here, Jiang not only makes a better version of the pawn in Western chess (the pawn's diagonal attacks are now suggested by the form), the work also includes a range of Asian chess variants.
And of course – we never get to quite deduce the entirety of game rules from the shape of the pieces, but it's just interesting to see that the basic question of how to shape chess pieces does not need to be left to the history books.