This is my fourth Patch Wednesday post where I discuss a question about video games that I think is unanswered, unexplored, or simply not posed yet. I will propose my own tentative ideas, and invite comments. 
The header sounds a bit like Ash Wednesday, so we can reaffirm our faith in the idea of examining video games, but Patch Wednesday to mark the sometimes ragtag and improvised character of video game studies.
Where did Threes come from? The currently massively popular puzzle game Threes is seen as the victim of a large number of clones, particularly 2048. To prove their point, the developers have posted a long article explaining their design process.
At the same time, though 2048 is in many ways similar to Threes, some people also whisper that they think 2048 is the better game, because it is simpler (always doubling 2, 4, 8 rather than the 1+2=3 merging of Threes). It certainly is more intuitive to a programming mind.
Life is not fair, of course, and it seems a shame that someone can borrow from the game that someone else developed and through a minor change reap the seeds of the iterative design process of someone else. But you cannot copyright game ideas, only their expression.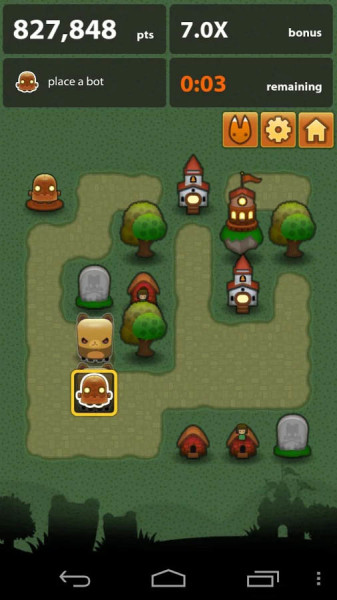 Regardless, where does Threes come from? As a headline, the game contains two particular and rare mechanics: merging (the combination of objects to form higher-level objects) and slide-to-combine (pushing the entire screen to one side at a time, combining objects that are pushed into each other).
1) Merging
The merging mechanic does at this time seem to be inspired by Triple Town, where merging is reminiscent of match-three games. Yet where regular match-three matches lead to clearing the objects matched, Triple Town matches always creates a new higher-level object.
But where does this merging mechanic come from? Dan Cook, triple town developer stated that it was inspired by the idea of sets in card games as well as by crafting systems.
Quick research and the twittersphere proposed a few sources for merging:
The king in Checkers – but this is not what I meant, since the stacking of two pieces is just a convenient way to signal a special piece, rather than an element of the gameplay. So merging is to be understood in a gameplay-sense.
Combining stones in Mancala – again, I had to realize that this was not what I meant, and had to narrow down the concept of merging: merging should be unidirectional, as in the player being unable to take apart the merged object.
Dan Cook's suggestion of sets in card game was also not what I meant by merging, since sets are (generally) immediately removed from a game.
A similar objection applies to the suggestion that melds in Gin Rummy are a type of merging, since melds do not become separate entities.
Aaron Isaksen reminded be that he had shown me his chip-merging game Chip Chain game (2012).
A promising candidate for a first merging-game is Money Puzzle Exchanger (1997) where you can combine yen coins into higher denominations.
Dan Cook also suggested that the powerups in Bejeweled 2 (2004) are actually a type of merging. We may not think of it as merging because the default response to a match (three) is for the tiles to disappear. On the other hand, high-level match-three playing is quite similar to Triple Town in the requirement for planning the location of the generated powerups.
A non-puzzle example is the Archon in StarCraft (1998), created from two high templars.
And crafting, of course, but is it the same, or is it too much about managing inventory items and too little about what's on the screen? If it is the same, then we may have to dive into the history of D&D (Jon Peterson's Playing at the World would be a place to start.)
(Winner) But then I was pointed to the 1996 Mouja, which also features merging of coins. As far as I can tell this is the first puzzle game to use merging, but on the other hand this also seems unlikely, given how simple a mechanic merging is.
New winner (thanks to Marc Majcher): the 1990 Darwin's Dilemma.
For analog games, Cassino (ca. 1797) is a candidate, given the focus on building card stacks that act as one card.
I am sure I have missed something here (let me know). Until I came upon Cassino (which I played as a child), I was entertaining the theory that merging is simpler to do in digital form, and therefore was rare in analog games, but this theory is probably wrong.
2) Slide to combine
(Winner) T
his was easy: I immediately recognized the slide to combine control of Denki Blocks (2001). In Denki Blocks, objects don't merge to occupy a shared space, but rather become stuck to each other.
Is there an earlier one?
What we've learned
The "first game to x" is not be as simple as it sounds. In this case, the concept of merging had to be defined more clearly before I could start tracing it. Slide to combine only had one obvious candidate.
Finding the "first" is very hard, since you can never prove your argument, only hope not to be disproved.
Note that the Threes developers have (as far as I know) not mentioned any of the games I have cited as sources for merging and sliding. I think some of this is due to a particular mechanic simply being "in the air", and some of it may be parallel invention. In many cases, we will never know.
Games are made out of bits of other games, people!
Thanks
To Eric Zimmerman, Frank Lantz, Dan Cook, Alexandre Houdent, Aaron Isaksen, Bruce Boyden, Mikkel Faurholm, Clay Branch, Matthijs Holter, Marc Majcher.